Customized Shaft Machining VTC
VTC 100
Workpiece dia., max.: 100 mm | 4 in
Workpiece length, max.: 400 mm | 15.5 in
Chuck dia., max.: 210 mm | 8.5 in
---
VTC 100 Customized Vertical Shaft Machining
The strength of the VTC 100 Vertical Turning Machine lies in the production of large quantities of shafts with diameters up to 400 mm. Full integration into the EMAG machine concept including automatic loading and unloading of the workpieces offers a manufacturing system that is characterized by short travel distances and fast loading of via the turret. This is complemented by a powerful main spindle (34 kW, 144 Nm, 6000 rpm).
4-Axis Vertical Turning Machine
The overhead main spindle is located in the center of its upper section with a tailstock below. The shaft components are clamped between the work spindle and tailstock and supported by a steady. The machining operations are carried out by two turrets featuring 11 tool stations each and one additional station to accommodate the workpiece gripper that conveys the workpiece into and out of the vertical turning machine. The remaining tooling stations can be equipped with turning or driven tools.
To the left and right of the machining area are closed-looped conveyor belts that store raw-parts and finish-machined components.
Shorter cycle times through 4-axis machining
Less investment required in sensors, as the machine axes are direct driven and the machine's control system is of the latest design
Short setting and resetting times owing to great machine accessibility and operator friendliness
Less operator intervention (tailstock and steady are CN-controlled, the turrets can be accessed directly)
The vertical construction of the machine and the resulting free chip flow prevent the creation of chip nests
Less expense for automation and peripherals
Raw-part and finished component storage form an integral part of the machine
Reduced idle times through cycle time-concurrent loading and unloading
The machine can be used as a stand-alone or in a production line
The compact, vertical construction of the machine features a small footprint
Workpiece dia., max.
100 mm
4 in
Workpiece length, max.
400 mm
15.5 in
Chuck dia., max.
210 mm
8.5 in
Workpiece dia., max.
mm
in
100
4
Workpiece length, max.
mm
in
400
15.5
Chuck dia., max.
mm
in
210
8.5
Swing diameter
mm
in
210
8.5
Gripper diameter, max.
mm
in
63
2.5
X-axis travel
mm
in
332
13
Y-axis travel
mm
in
± 25
± 1
Z-axis travel
mm
in
625
24.5
We have the

right solution

for you!
Workpieces
The Right Manufacturing Solution for

Every Workpiece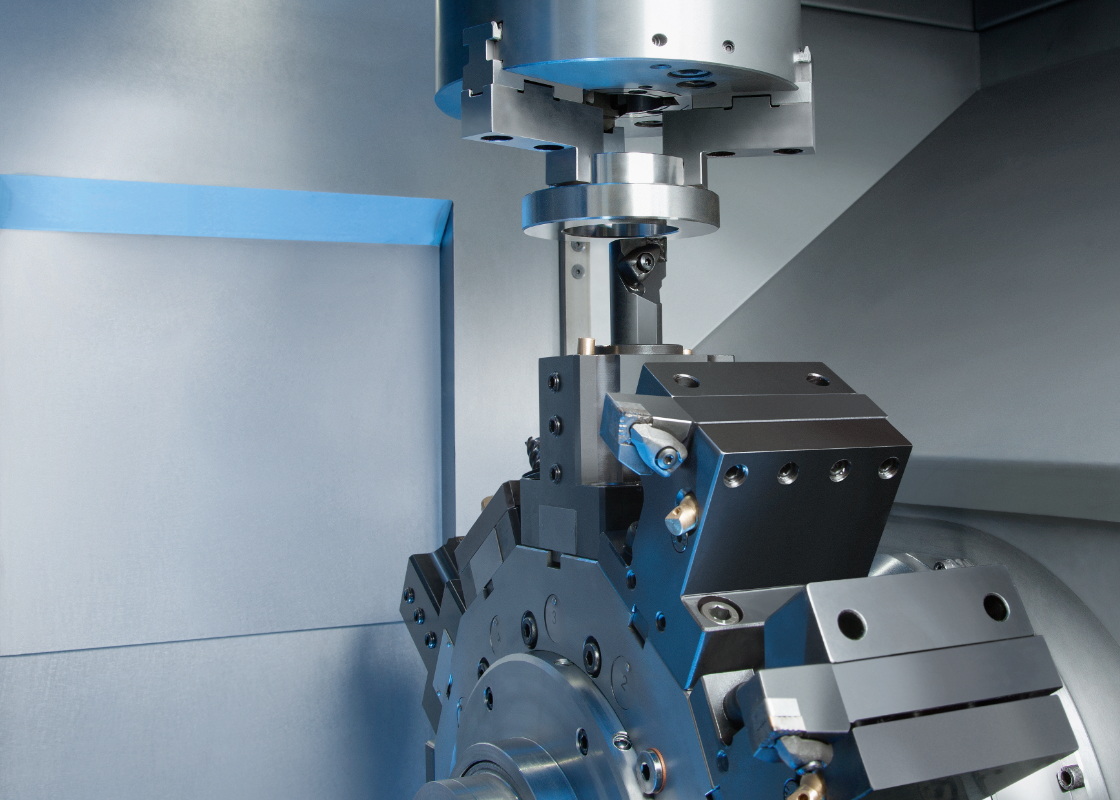 Technologies
Complex Manufacturing Systems from a Single Source

thanks to a High Range of Technologies

Vertical turning is a machining process for metal components. EMAG was one of the first machine tool manufacturers to use the vertical turning process…