ECM / PECM Machines
PO 900 BF
Component diameter, max.: 900 mm | 35.5 in
Workpiece weight, max.: 300 kg | 661.5 lb
Generator capacity: A (DC) 2 x 2.500 – 5.000
---
Blisk Machining on a PO 900 BF
EMAG ECM has two machine types for the different machining tasks of jet engine and turbine production: while the small PO 100 SF model is designed for machining turbine blades, the larger PO 900 BF machines complete blisks. The systems differ in machining area size, footprints, generator capacity and the number of machining axes. Precise PECM technology and EMAG high performance components are naturally available in both types.

Both these machines also provide the user with key EMAG innovations such as a Mineralit® polymer concrete machine base, intelligent software and hardware interfaces and efficient automation solutions.
Machining from single Turbine Blades to the Complete Blisk
PECM - Non-contact material removal and fast processes.

Electro-chemical machining is a well established process for machining extremely hard materials. With their PECM technology, the experts from EMAG ECM have further developed this method and tuned it to perfection. During the process, the workpiece becomes the positive anode and the tool the negative cathode as an electrolyte solution flows between them.

In the PECM process the gap between the workpiece and tool, through which the electrolyte solution flows, is particularly narrow. The supply of the electrolyte solution is enhanced by a mechanical oscillation motion. Both these factors together ensure that the material removal is even more effective and precise.
Machine base made of Mineralit® polymer concrete
2 Oscillators with zero backlash
Compound slide with adapter for blisk with Z-, Y-, B- and C-axes
Hydraulic zero point clamping system
Machine control unit SIEMENS SINUMERIK 840D sl

Component diameter, max.
900 mm
35.5 in
Workpiece weight, max.
300 kg
661.5 lb
Generator capacity
2 x 2.500 – 5.000 A (DC)
Component diameter, max.
mm
in
900
35.5
Workpiece weight, max.
kg
lb
300
661.5
| | | |
| --- | --- | --- |
| Generator capacity | A (DC) | 2 x 2.500 – 5.000 |
| Generator capacity | A (Puls) | 2 x 6.000 – 12.000 |
We have the

right solution

for you!
Workpieces
The Right Manufacturing Solution for

Every Workpiece
Blisk
Components inside an aircraft engine are exposed to extreme stresses, and therefore made from very hard materials. For example a Blisk (Blade Integrated Disk) is often made from nickel-based super…
Hollow Shaft (e-bikes)
For years, the hollow shaft has been established as the axle for the crank system in an eff ort to reduce weight.

However, due to the unique configuration of these workpieces, the traditional chip…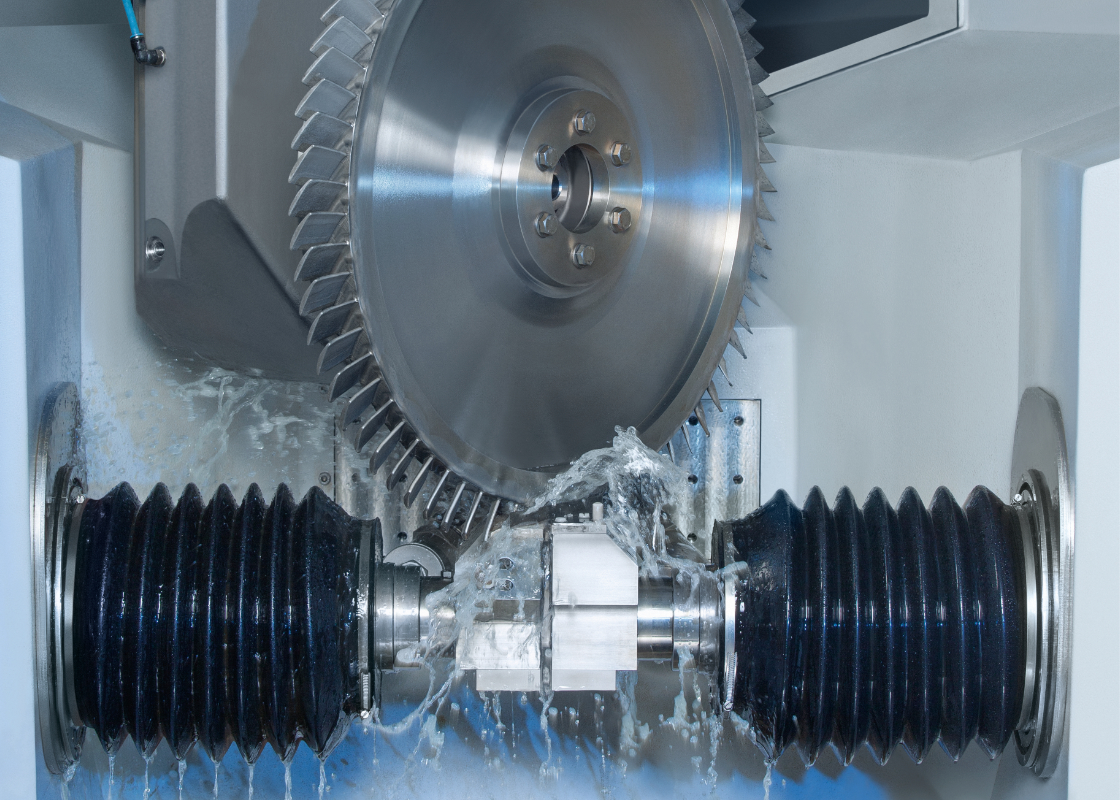 Technologies
Complex Manufacturing Systems from a Single Source

thanks to a High Range of Technologies

Electro-Chemical Machining (ECM) is the generic term for a variety of electro-chemical processes. ECM is used to machine workpieces through the anodic…

The use of electro-chemical metal removal processes guarantees surfaces of the highest quality - even on filigreed components. To achieve even greater…