Laser Cleaning Machines
LC 4-2
Footprint: mm 1500 x 3050
Laser capacity: 200 W fibre laser
Max. axis speed (rapid-traverse) X / Z axis: m/s 0,4 / 0,5
---
Standalone LC 4-2 laser cleaning machine for implementation in manufacturing lines or as a standalone machine
The LC 4-2 laser cleaning machine evaporates impurities on surfaces using a high-energy laser beam. The machine is designed for components with a max. diameter of 200 mm and a max. height of 350 mm.
Laser cleaning in detail
Laser beam cleaning is a method that, for quite some time now, is no longer solely implemented for mold cleaning, but that can also be implemented to clean a wide range of different components during processing. The success of the laser as an alternative to conventional cleaning methods can be attributed to the numerous advantages of the process. For one, the method only incurs very low operating costs, since no cleaning agents are used and no waste disposal is required. Secondly, the process is very precise and gentle on surfaces. Finally, the excellent cleaning results that can be achieved with the laser beam are ultimately the decisive factor. The laser evaporates oxides, dirt particles of all kinds and above all impurities from polymer-based lubricants, which are particularly difficult to remove, in a matter of seconds. The remaining surface is perfectly prepared for subsequent machining, e.g. laser welding.
Energy-efficient: lower energy consumption than conventional washing units
Reliable: no additional contamination from cleaning agent residues; practically maintenance-free
Fast: no parts traveling around the plant and lengthy non-productive times, since laser cleaning can be fully integrated into the laser systems
Quality: all typical organic residues are removed
Very cost-efficient
Stable process: not dependent of water quality or its additives
Laser capacity
200 W fibre laser
Max. axis speed (rapid-traverse) X / Z axis
0,4 / 0,5 m/s
| | | |
| --- | --- | --- |
| Footprint | mm | 1500 x 3050 |
| Laser capacity | | 200 W fibre laser |
| Max. axis speed (rapid-traverse) X / Z axis | m/s | 0,4 / 0,5 |
| | | |
| --- | --- | --- |
| Type C-axis feed speed | m/s | 0,05 |
| Control unit | | NCU 720.3B PN Sinumerik 840Dsl |
We have the

right solution

for you!
Workpieces
The Right Manufacturing Solution for

Every Workpiece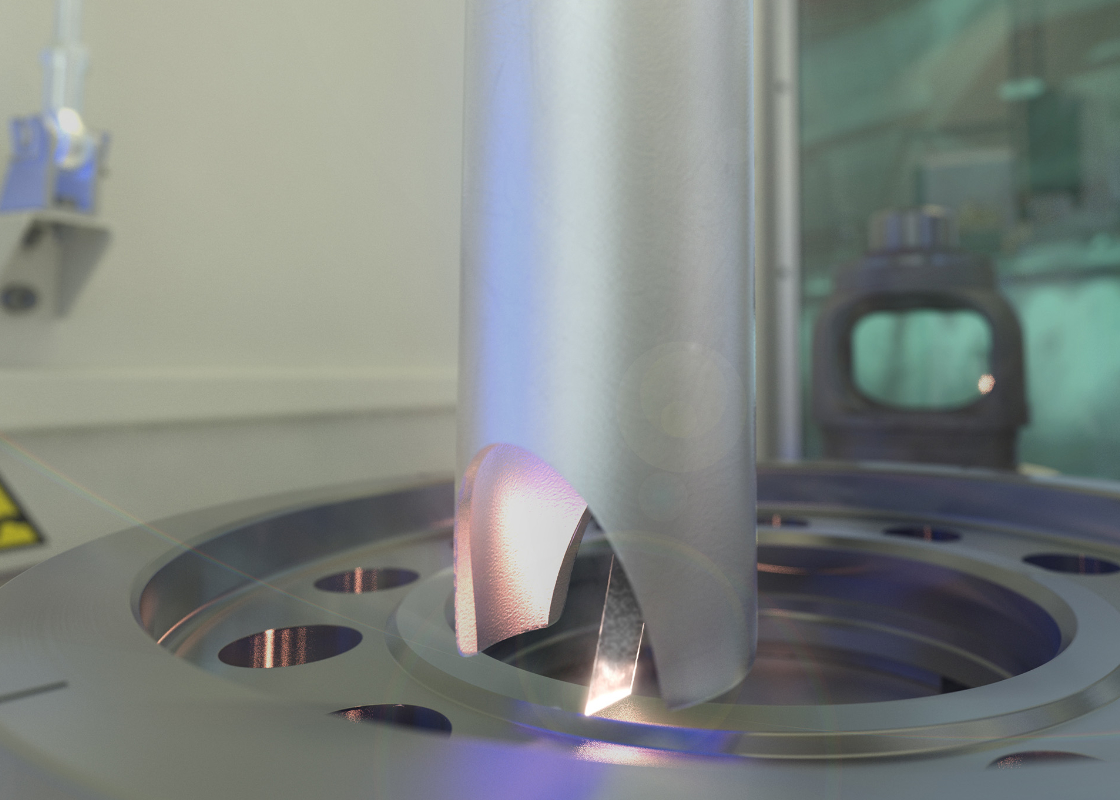 Technologies
Complex Manufacturing Systems from a Single Source

thanks to a High Range of Technologies

Laser cleaning is a fast and space-saving process that can replace conventional washing machines in many applications. One of its main strengths is…