Production VSC
VSC 250
Workpiece dia., max.: 250 mm | 10 in
Workpiece length, max.: 175 mm | 7 in
Chuck dia., max.: 315 mm | 12.5 in
---
CNC Lathe for High-Productivity Vertical Turning of Flange-Type Workpieces
What are the advantages for the user when the main spindle of a vertical CNC lathe acts like a movable pick-up arm that collects the raw-part and unloads it again once it has been machined, carrying out all required travels, even those that have to be made during the machining process? The answer is obvious: an enormous amount of time is saved with practically every application as a number of processes are combined in one compact sequence. Of great importance for this is the heart of the CNC lathe: the multifunctional overhead slide with the pick-up spindle. This slide contains the quill that incorporates the integral workspindle and carries out all movements.
Extreme rigidity, high rapid traverse speeds and short strokes, together with the integral coolant system, guarantee precision, high productivity levels and short idle times for the VSC 250 production machine.
VSC 250 CNC Lathe: Vertical Turning + Automation + Measuring
The VSC 250 CNC lathe is configured to suit individual manufacturing requirements incorporating vertical turning technology, integrated automation and measurement. The vertical design of the VSC 250 provides the shortest possible travel distances between the pick-up station and machining area. This reduces idle times to a minimum. The machine base of MINERALIT® and the double-wall construction ensure the best possible damping and outstanding heat stabilization. An extensive selection of technology modules allows the machine to be configured to suit individual, customer-specific production requirements.
The availability of diverse automation components also allows for integration into manufacturing systems.
Every machine is a production cell that utilizes its pick-up spindle to load itself
Short travel times and equally short machining times
Multifunctional production tool: turning, drilling, milling, grinding and other processes
The workpiece travels while the tooling systems remain stationary
Ideal chip flow conditions due to the tools being located below the workpiece
The work spindle with a hydro-static guideway in Z-axis (optional) ensures outstanding component quality and a high tool life for soft and hard machining operations
All accuracy defining machine assemblies are fluid-cooled
Safe, wear resistant, maintenance-free machining area envelope
Dry machining is easy with the VSC because the work spindle and tools are ideally positioned for this purpose
Workpiece dia., max.
250 mm
10 in
Workpiece length, max.
175 mm
7 in
Chuck dia., max.
315 mm
12.5 in
Workpiece dia., max.
mm
in
250
10
Workpiece length, max.
mm
in
175
7
Chuck dia., max.
mm
in
315
12.5
Swing diameter
mm
in
350
14
X-axis travel
mm
in
745
29.5
Y-axis travel
mm
in
300
12
We have the

right solution

for you!
Workpieces
The Right Manufacturing Solution for

Every Workpiece
CV Joints
The components of CV joints, such as outer race, articulated cages and inner races demand a lot out of machine tools. EMAG offers a wide range of manufacturing solutions for efficient production.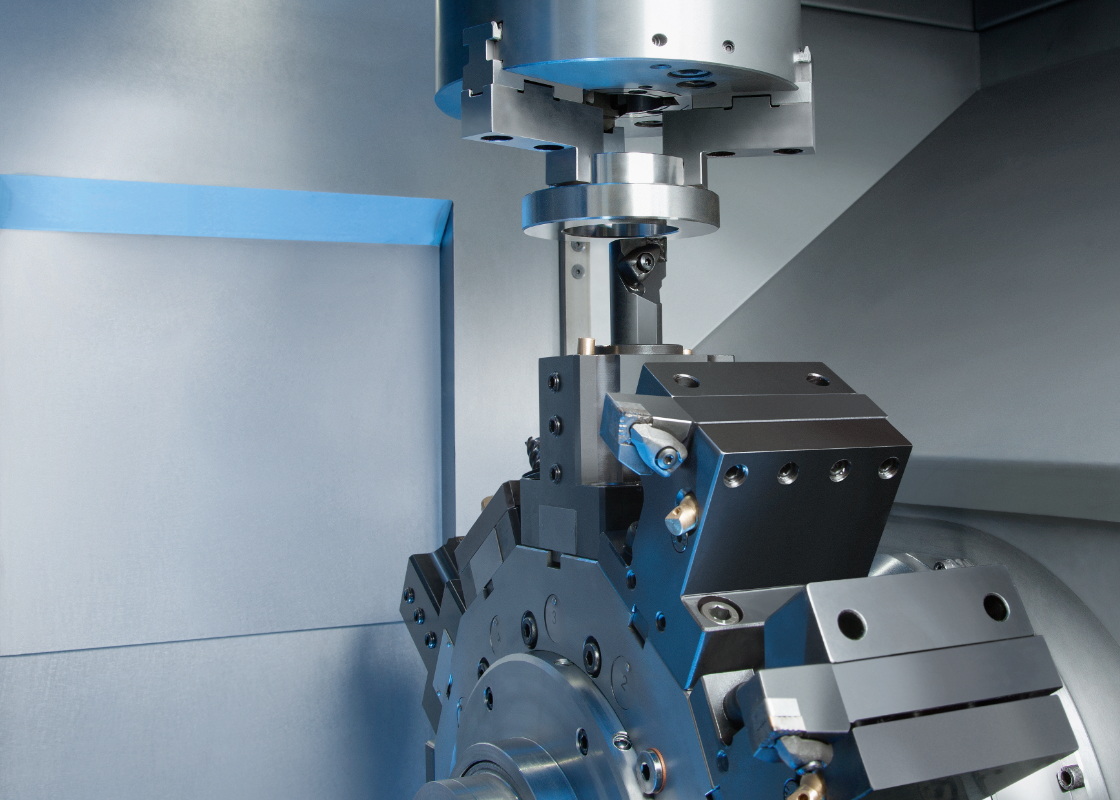 Technologies
Complex Manufacturing Systems from a Single Source

thanks to a High Range of Technologies

Scroll-free turning technology developed by EMAG offers new possibilities for fine machining. With scroll-free turning, you are able to produce…

Vertical turning is a machining process for metal components. EMAG was one of the first machine tool manufacturers to use the vertical turning process…