Modular VL
VL 8
Workpiece dia., max.: 400 mm | 15.5 in
Workpiece length, max.: 300 mm | 12 in
Chuck dia., max.: 500 mm | 19.5 in
---
VL 8 - CNC Turning at the Highest Level for Chucked Parts up to 400 mm in Diameter
With the VL 8 vertical pick-up turning machine EMAG makes the advantages of its VL series available for large parts as well. The automation system integrated into the turning machines guarantees rapid processing, while the stable basic structure of the machine ensures top quality in turning and milling. The vertical design likewise contributes to the high machining quality, as it virtually eliminates all effects of chips generated during machining.
Vertical Lathes with Integrated Automation for Large Workpieces
The cornerstone of the VL 8 turning machine is a machine base of MINERALIT® polymer concrete that guarantees a vibration resistant process, providing for excellent tool life and outstanding machining quality. The pick-up spindle collects the workpieces from a lateral conveyor belt, transporting them the short distance to the machining area to ensure short chip-to-chip times. The machining process is highly flexible, allowing for the use of a large variety of tools. Machines are easily interlinked and the integration of a Y-axis in the turret allows for the "off-center" machining of more complex geometries.
EDNA IOT-READY EX-WORKS: Get started with data-optimized production with VL series
Using data analysis, unnecessary downtimes – due to component wear or, in the worst case, due to the failure of a machine – can be reduced or even avoided entirely. Productivity increases of over 10% are the rule here. To make entering the world of data-optimized production as easy as possible for our customers, all the machines of the VL Series now come standard in an IoT-ready state. This means that data analysis on the machines can be started virtually immediately.
Small footprint (chaku-chaku or close linear arrangement) for reduced floor space costs and more possibilities for machine layout
Simple interlinking via central feeding and discharge belts and pick-and-place or turnover units = flexible in regards to future developments, lower automation costs and shorter tooling times
Integrated automation at no additional cost
Short transport distances = optimization of idle times
Common parts strategy, standard spare parts warehousing for lower maintenance costs
Ease of operation (extremely accessible machining area) and quicker machine set-up
High energy efficiency reduces energy costs
Workpiece dia., max.
400 mm
15.5 in
Workpiece length, max.
300 mm
12 in
Chuck dia., max.
500 mm
19.5 in
Workpiece dia., max.
mm
in
400
15.5
Workpiece length, max.
mm
in
300
12
Chuck dia., max.
mm
in
500
19.5
Swing diameter
mm
in
520
20.5
X-axis travel
mm
in
1,110
43.5
Y-axis travel (optional)
mm
in
± 30
± 1
Z-axis travel
mm
in
595
23.5
Main spindle: Power rating at 40 % / 100 % duty cycle
kW
hp
47.5 / 34.5
64 / 46.5
Main spindle: Torque at 40 % / 100 % duty cycle
Nm
ft-lb
780 / 600
575.5 / 442.5
Main spindle: Speed, max.
rpm
2,850
We have the

right solution

for you!
Manufacturing lines
Complete

Manufacturing Lines

or

Automation Systems

from EMAG
Bin Picking Automation
Bin picking, or "reaching into the box," is a technology in which a robotic arm uses a 3D sensor system (3D camera, scanner, ...) to remove workpieces in a chaotic position from a mesh box or similar.…
SCS Stacking Cell
Highly productive production in a confined space – this is what is promised by the new stacking cells of the SCS series in combination with the vertical turning center from EMAG.

Whether for the…
TrackMotion
With the TrackMotion automation system, a "TransLift" unit runs through the machines on a rail system (track). Functions of the TransLift include picking up and placing parts with different heights,…
Digitalization
Digitalization @ EMAG -

The Future is Connected
EDNA IoT Ready
The entry into the world of data-optimized manufacturing: To make it as easy as possible for our customers to enter the world of data-optimized manufacturing, the machines in the VL/VT series are now being delivered IoT-ready.
Workpieces
The Right Manufacturing Solution for

Every Workpiece
Rotor Shaft - Assembled (Electric Motor)
Rotor shafts in stationary electric motors are usually solid shafts with a smaller diameter. Alone, these rotor shafts are not heavy, however the small diameter of the shaft requires that a large…
Truck Brake Drum
EMAG is known for its compact manufacturing solutions. That is due to the high degree of automation and the vertical structure of its pick-up machines. This concept was also applied in the design of…
Truck Wheel Hub
The vertical turning centers in the VL series, in particular the VL 6 and VL 8, are ideal for machining larger components, such as truck wheel hubs, thanks to their powerful working spindle and…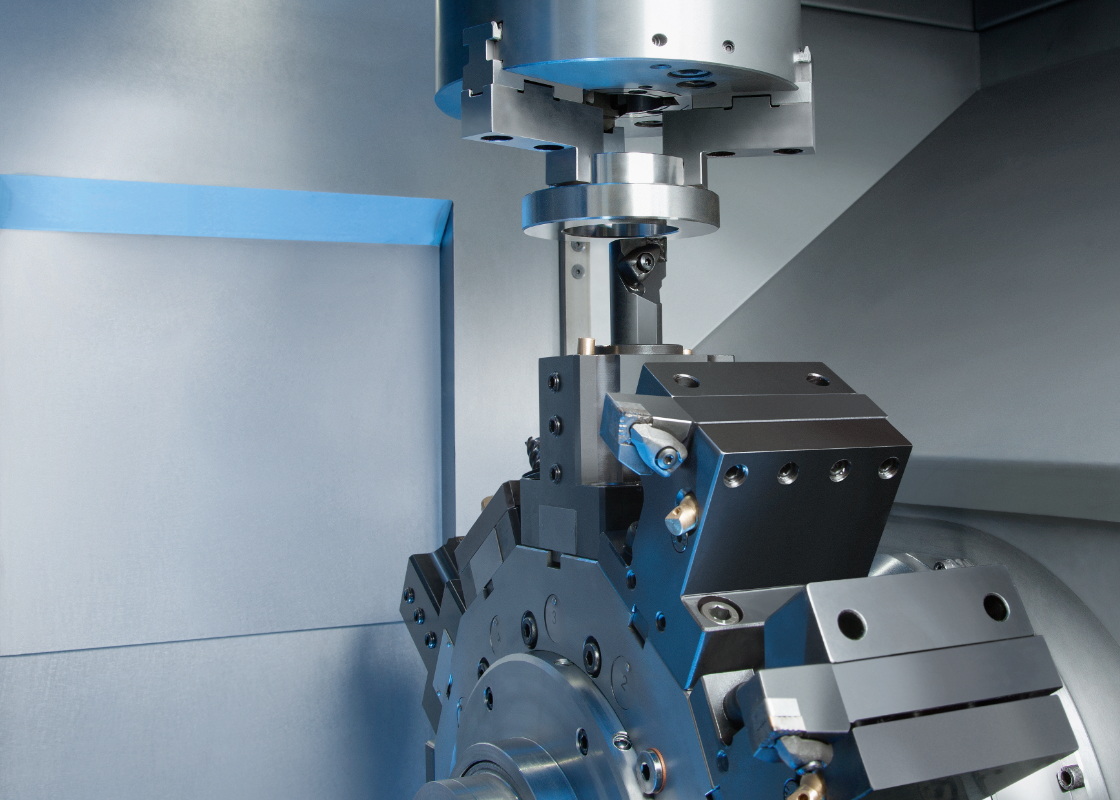 Technologies
Complex Manufacturing Systems from a Single Source

thanks to a High Range of Technologies

Vertical turning is a machining process for metal components. EMAG was one of the first machine tool manufacturers to use the vertical turning process…